F

ormulas.
Any story has a beginning and an end. Usually something happens in between, like falling in love, breaking up, death, birth and so on. For Korean TV dramas there seems to be a very familiar formula.
Here it is:
1. Make sure that when they first meet it is under unbearable conditions.
For Example: You are this young lady in the picture and you happen to run a tour guide business. The tour is over and your job is to make sure the people on your bus get to their airplane on time. But for some reason you are late. So then you run up to the gate terminal and beg to get inside the plane to save it from taking off. You pretend to cry as if your boyfriend is on the plane. Once you made your way inside you find this guy (pictured on the left) and pretend he is your boyfriend. You emberass him and yourself in the process of pretending to be lovers. Meaning that from now on you two will be enemies because of meeting in an unpleasant way.
2. Make sure this "couple" has to be, for some reason, around each other all the time.
For Example: This guy has a serious family issue. His Grandfather's Granddaughter has been missing for a long time. It is this guy's mission to find the missing Granddaughter and bring his ailing Grandfather back to health. What do you do? Well you make this girl (the one who knows how to fake circumstances, pretty well) pretend to be the Granddaughter. Now the two must live with each other in the same house, despite the fact that they hate each other's guts.
3. Despite their initial feelings for each other they start to fall in love.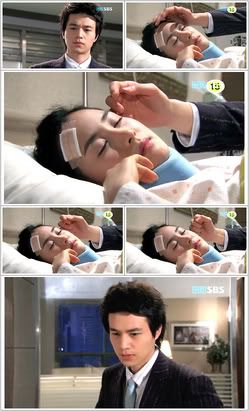 For example: At some point they start to like each other. Usually the guy starts to think the girl is cute in her devilish ways or the girl thinks the guy is cute when he is angry or frustrated. Either way the story gets built up this way. Here you can see that the guy is overcome with his feelings for her after seeing her in the hospital.
4. Throw in another guy who loves the girl too, but he can't have her.
For example: This guy is either related to the main guy or is an outsider. Try as he might the storyline formula just won't let them be together.
5. Make sure that there is either an ex-girlfriend or main girlfriend for the main guy, so that
the storyline has a bit of jealousy.
6. Sh*T Happens: Maybe someone dies, maybe someone becomes on the verge of death, maybe something really controversial is revealed...whatever it is make sure it has such a big impact that it makes the two love-birds split apart.
7. Happy Endings: Because that is what life is really about, right? I mean they build the whole story to leave you feeling happy in the end, right?
Well I haven't watched every single Korean Drama out there but I can say this is pretty much it for them. Heck, it even worked for the drama The First Shop of Coffee Prince, where a girl acts so un-girly that a guy believes her to be a guy and makes her part of his coffee shop staff. And yes they do fall in love, and he thinks he is falling in love with a man...but he figures out she is a girl in the end.
So there you would have it. The Formula for Korean dramas...the same can be extended to some Korean movies that follow this kind of fluff fan-fair.
Bo Kwan even tells me he sometimes can't stand this canned kind of formula and finds American drama to be more refreshing and interesting than the stuff he sees back home.
Although ultimately cheesy and predictable you either end up enjoying watching Korean drama or just want to skip to the ending so to save yourself the agony of whether these two will ever kiss or be together.
This ends Part II of my Drama analysis post. I will create Drama Part III when the time comes.
So folks....
Stay tuned...